Audiobooks with my kids have gotten me into trouble.
We were three books into an adventure series so gripping that my kids BEGGED for the next car ride.
Suddenly, with my preschooler, first grader, and fourth grader listening, the book took a very dark turn. The warrior rats who had always disliked the mice herded them into volcanic chambers to die of poisonous gases. Mouse families with babies and grandparents suffocated and died as the heroes looked on, powerless.
That moment hangs in my mind. A frozen pause. Wondering why I had so recklessly chosen a series without reading reviews of all the sequels. Wondering what this would do to my youngest listener- a person still struggling to write her own name.
It felt like a massive screw-up- and one that was wholly my own. All of us were shocked. The kids dove into the second stage of grief- denial. Maybe what the heroes saw wasn't real. Maybe they will be able to save them through some story mechanic. Maybe they only look dead.
If you had been listening with us, you too would have known the story had no surprise resurrection- no time travel, no magic potion, no red herring, no nightmare to be shaken from. I shut off the book, established the deaths as final, listened to the kids, and answered their questions.
We were sad together. I was sorry to have accidentally peeled back a view into the ugliness of hatred and violence we usually shield children from. It felt pretty crappy.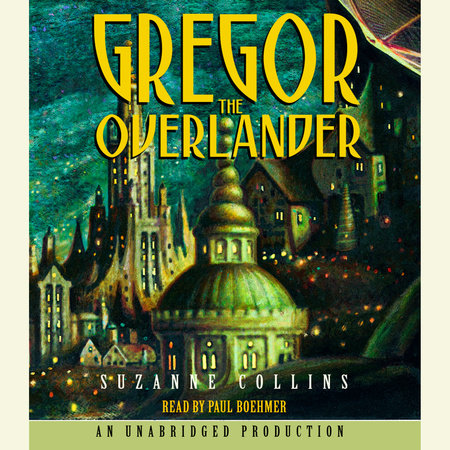 Then they asked me to turn the book back on. And, to my own surprise, I did. We finished the five book series together.
Years later, whenever they want to try reading or watching something scary, they always say, "But Mom, you already let us listen to
Gregor the Overlander
."
Suzanne Collins'
The Underland Chronicles
remains one of their favorite series of all time... OUR favorite series.
So why should every parent listen to audiobooks with their kids?
Because you have opportunities to talk about the book together. Stories are like laboratories to explore actions, consequences, values, and ethics from the safe perspective of observers- but observers who care about the characters. Reading literary fiction (books with emotional complexity)
has been shown to improve empathy in adults
and
increases emotional intelligence in children.
Listening to stories together gives us an increased common language and experiences. My kids will sometimes describe a person by referencing a trait from a character we all know. They also ask about unfamiliar words, concepts, and ideas we encounter.
Audiobooks are a great venue for storytelling because the pace of delivery is slower than a film or show and easier to momentarily interrupt and clarify. Audiobook readers are usually skilled actors or the authors, so their recordings have a quality and foresight into the material that is hard to muster when reading a book for the first time while you try to share it with others. I do believe in reading aloud to my kids, even from new books, but it's a bit more like feeling my way in the dark when choosing the emphasis for sentence I've never seen before.
Here are some titles that should appeal to both adults and kids to get you started
Just another New Jersey boy meets giant chicken story. Nothing to see here.
I LOVE this book, and it's a good start for new audiophiles. It's not very long. The sequel, Looking for Bobowicz, is even better. Sadly, the third book in the series can only be found in print. Daniel Pinkwater is an extremely generous author who puts out a free podcast of his written works. Check it out.
Secrets At Sea by Richard Peck
Great for younger listeners. An Edwardian mouse family tries to help their somewhat hapless humans as they cruise to England to improve their social status. First of two books.
A Western story about kids grappling with strange happenings in their weird new hometown and searching for lost treasure. This series has my 2nd grader, 4th grader, and 7th grader begging for each next installment in this trilogy.
A sketchy fake mustache that grants charisma turns a kid into an evil mastermind bent on becoming president. Can his best friend and a former yodeling television cowgirl stop his march to power?
The Willy Wonka of videogames designs a cutting-edge library for his hometown. Before the library opens to the public, a group of essay contest winning kids compete to escape this new library by solving a series of puzzles. Includes great references to history and books. Series.